Article: hideAWAY x Cancer Council Queensland: what you need to know about breast and gynaecological cancer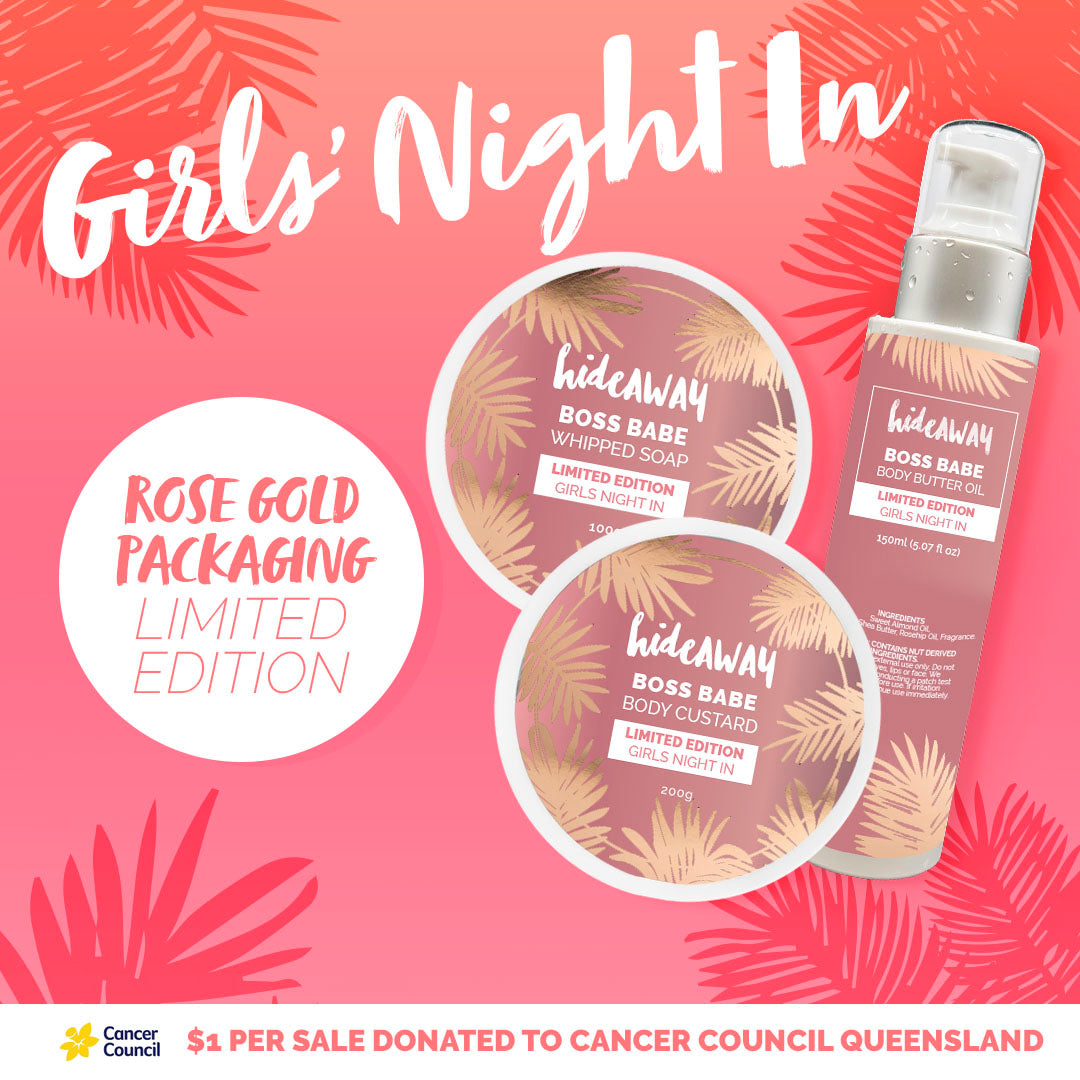 hideAWAY x Cancer Council Queensland: what you need to know about breast and gynaecological cancer
This October hideAWAY is Collaborating with Cancer Council Queensland to bring you a Limited Edition Release of our hideAWAY fan favourite "Boss Babe" in our Whipped Soaps, Body Custards & Body Butter Oils!
For every purchase of our Limited Edition "Girls' Night In" Boss Babe products we'll put $1 towards fighting women's cancers in collaboration with Cancer Council Queensland. 
Facts you need to know about cancer in Australia:
This year it's estimated that over 20,000 women will be diagnosed with breast or gynaecological cancer

In 2018, 2999 women and 35 men died of breast cancer

In 2018, there were 232 deaths caused by cervical cancer 

In 2018, there were 968 deaths caused by ovarian cancer

In 2018, there were 524 deaths caused by uterine cancer

About 380 Australian women are diagnosed with vulvar cancer each year.
What are the symptoms of breast cancer?
Some people have no symptoms and the cancer is found during a screening mammogram or a physical examination by a doctor.
If you do have symptoms, they could include:
new lumps or thickening in the breast or under the arm

nipple sores

nipple discharge or turning in

changes in the size or shape of the breast

skin of the breast dimpling

rash or red swollen breasts.
Pain is rare. 
What are the symptoms of gynaecological cancer? 
Gynaecological cancer can either be cervical, vaginal, vulvar, ovarian or uterine cancer. The symptoms may vary but nonetheless, are still relevant to one and other. 
There are often no obvious signs of gynaecological cancer, however you may have one or more of the following symptoms:
abdominal bloating

difficulty eating or feeling full quickly

frequent or urgent urination

back, abdominal or pelvic pain

constipation or diarrhoea

menstrual irregularities

tiredness

indigestion

pain during intercourse

a lump in the vagina or on the vulva

blood in the urine

pain during, or bleeding after sexual intercourse

itching, burning and soreness or pain in the vulva

a mole on the vulva that changes shape or colour

blood, pus or other discharge coming from a lesion or sore spot in the vulva

hard or swollen lymph nodes in the groin area.

unexplained weight loss or weight gain.
These symptoms can be caused by other conditions but if you are experiencing any of these symptoms, contact your local doctor.
To learn more, visit the Cancer Council website.
How can you support the cause?
Whether you host your own Girls' Night in, or purchase one of our Limited Edition products, know that it will be going towards a cause to help our sisters, mothers, daughters and grandmothers through the difficult times that cancer presents to so many Australian Women and their families.
To learn more, check out the following
webpage
.